Richard I. Feingold
Chicago Personal Injury & Social Security Disability Lawyer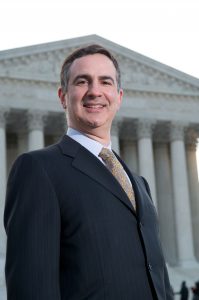 Without skilled legal representation, gaining the disability benefits you deserve is not easy. Neither is winning a personal injury claim.
Both processes can be complex and confusing, full of places where a seemingly simple misstep or two can make a big difference. Your claim might take longer. Or it may be completely denied.
That is where Chicago Personal Injury and Social Security disability lawyer Richard I. Feingold comes in. 
Rich's Inspiration to Help Others
Growing up, Rich was inspired to go to law school by a man he never met — his grandfather, Louis Edward Feingold. Louis was an immigrant who came here to the United States from Eastern Europe in the early 1900s. He attended Brown University, where he graduated Phi Beta Kappa, an academic honorary society. Then he graduated from Harvard Law School and became a prominent attorney in Worcester, Massachusetts. In addition to his long legal career, Rich's grandfather was deeply involved in the local Jewish community. And he once even hosted U.S. Supreme Court Justice Louis Brandeis at his house!
But it wasn't just his grandfather's awards or accomplishments that inspired Rich, it was how he lived his life. Louis was dedicated to uplifting others and giving back to his community. Louis's life example inspired Rich to choose law as his career to help others — and that's what he's been doing for the last 35 years.
How can we help you? By handling the details of your Personal Injury and/or Social Security disability cases — so that you can focus on your health and path to recovery.
Let our experience be your guide.
What do we do to make the process easier for you?
Never charge up front fees. We use the "fee agreement" process for Social Security disability cases and work on contingency for personal injury claims. In both cases, this essentially means that we do not get paid unless you do. In personal injury claims, any expenses we incur to help the case (for example, paying for medical reports) will not be charged until the end.
Gather all necessary evidence. Whether you are trying to obtain disability benefits or receive compensation for an accident/injury caused by another's negligence, you will need evidence proving your case. At Feingold Law, we handle this for you, compiling such evidence as medical records, medical bills and police reports to help you win your case. 
Work with your medical providers. In personal injury cases, medical records must show both the severity of your injuries as well as when and how those injuries were caused. Disability claims can require legal analysis of complicated issues of law and fact, all supported by medical evidence. The various parties involved all require different terminology to be used and for the information to be presented in a specific way to give you the best chance to qualify for benefits. When you work with us, you can be sure that all medical records will be accounted for and submitted correctly to give you the best chance of winning your claim.
Help you apply for Social Security Disability Insurance benefits or appeal a denial. Adjudicators look for specific things to approve or deny disability claims. Insurance company claims adjusters do the same thing in personal injury matters. With our decades of experience, we know how to complete your disability application to give you the best chance of receiving approval the first time. And if your claim is denied — before or after you start working with us — we know what it takes to build the strongest possible case to overturn that denial on appeal.
File all needed documents and keep up with deadlines. Did you complete the proper paperwork? Submit it to every office that needs it or properly file it online? Meet the required deadlines? There are a lot of moving parts to cases like these, and a single misstep can hurt your chances. We make sure there are no missteps.
Minimize travel and in-person meetings. During this time of Covid-19, we meet our personal injury and disability clients virtually so they never have to come into the office. We work hard to keep things running smoothly and make this process as easy as possible for you. When you're suffering from an injury or a disability, you need to be taken care of. As your Chicago personal injury or Social Security disability lawyer, we work hard to make you feel as comfortable and cared for as possible, so you can take better care of yourself! 
Always keep you in the loop. While our goal is to streamline these processes and take as much of the stress from your shoulders as possible, we also strive to make ourselves available for questions and concerns, and update you on your case so that you always understand your options and what is going on.
Whether you have suffered injury due to another's negligence and are seeking compensation or wish to apply for disability benefits, let the experienced and trustworthy counsel at Feingold Law fight for your rights! 
Reach out today to learn how to begin.