Effective September 29, 2016, the Social Security Administration revised its medical criteria for evaluating neurological disorders.
As you may recall, one way to prove you are disabled is to meet (or equal in severity) one of Social Security's medical listings.  The neurological conditions include: epilepsy, vascular insult to the brain benign brain tumors, Parkinsonian syndrome, cerebral palsy, spinal cord disorders, multiple sclerosis, amyotrophic lateral sclerosis (ALS) (also known as Lou Gehrig's disease), post-polio syndrome, myasthenia gravis, muscular dystrophy, peripheral neuropathy, neurodegenerative disorders of the central nervous system, such as Huntington's disease, Friedreich's ataxia, and spinocerebellar degeneration, traumatic brain injury, coma or persistent vegetative state, and motor neuron disorders other than ALS. As you can see, there are quite a few disorders, including the new multiple sclerosis listing.
These revisions were made because of advances in medical knowledge, treatment, and methods of evaluating neurological disorders.  In revising the listing, Social Security took into account comments that they received from medical experts.  Social Security had last comprehensively revised the listings for the neurological disorders on December 6, 1985. That was over thirty years ago.  As you can imagine, a lot had changed since then so a new listing was long overdue.
As mentioned above, there is a new multiple sclerosis listing.
One way to meet this listing is to show disorganization of motor function. Although the old did contain language regarding motor function, this new listing now states that there has to be an extreme limitation in the ability to:
Stand up from a seated position; or
Balance while standing or walking; or
Use the upper extremities (including fingers, wrists, hands, arms, and shoulders).
Another way to meet the MS listing is to have a marked limitation in physical functioning in one of the following:
Understanding, remembering, or applying information; or
Interacting with others;  or
Concentrating, persisting, or maintaining pace; or
Adapting or managing oneself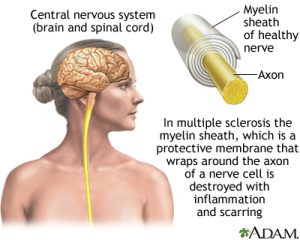 You may notice that these last four criteria are the same ones found in SSA's mental impairment listings.
Gone from the new multiple sclerosis listing is a specific reference to SSA's visual impairment listing and to SSA's former organic medical disorder listing.
We'll be reviewing this listing and others in future posts.  Thank you for reading and please let us know if you have any questions whatsoever.  Feel free to contact us through this website by clicking here to access our Contact Us Page.